Jun 13advertise
3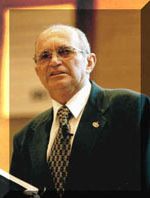 One of the people the Lord used for a big impact on our Christian walk has been Roy Waldrom.  He is a travelling Christian, spreading God's love and the message of Forgiveness.  He started his own website in September 2007.  You can find his site on:  www.forgive-it.com where 'Forgiveness means Freedom'.
"When judgment and unforgivness are ruling your life, when you can't hear God, when you think that you will never experience happiness again. That is when you need to hear a word. Not just any word, but a word that frees….a word that burns. That word is forgiveness.
"Those of us involved in this work have all come to a deep understanding of the power of forgiveness. Though we are scattered about in countries around the world, all of us long to show you the way back to the Love, Joy and Peace you were created for.
Born in 1937, Roy was the seventh child in a family of eight. His is a wonderful story of the work of God in just one man. The message of forgiveness and refusing to judge that came to Roy from Father God has changed forever the lives of those that have heard it and taken it to heart.
I have particularly found his post on hearing from God most helpful!
"How Does God Speak?   by Roy Waldrom

No 1, Through, His written word. Psalms 119-105 Romans 10-17
No 2, Through, dreams and visions. Matthew 2-13. Acts 16-9
No 3, Through, an audible voice. Acts 9-10, Matt 17-15
No 4, Through, a thought or impression. Acts 18-5
"My sheep hear my voice, I know them and they follow me." John 10-27
Blockages to Hearing
No 1. UN-FORGIVENESS
Mark 11-25 "And when you stand praying, forgive.: Not forgiving is one of the major keys to why people cannot hear God's voice.
1 John 2-11 "He who hates, (does not forgive) his Brother is in darkness." To be in Darkness is to have no living relationship with Jesus.
No 2. PAST INVOLVEMENT WITH THE OCCULT.
Deut. 18-9 to 12. Those who are involved will be driven out.
Acts 8-9 plus 22 and 23, Practiced sorcery. (magic)
No 3. INIQUITY.
Psalm 66-18 If I regard iniquity in my heart, the Lord will not hear me.
INIQUITY = REBELLION OF THE HEART.
1Samuel 15-22 and 23
REBELLION = Witchcraft. WITCHCRAFT = Control.
STUBBORNNESS = iniquity and idolatry
Some Practical Reasons We Do Not Hear.
No 1. I already know the answer.
No 2. I don't want to know the answer.
No 3. There is a sin in my life and God wants to deal with it.
No 4. It is an area that God does not want to talk about now.
"God's voice is in our thoughts. We need to get still, listen to what thoughts are coming through, and sort them out, because there are 4 voices in one's mind.
God's, Mine, Others and Satan's.
"People today are filling their minds, drowning out the still, small, voice that is trying to get their attention.
(We need what) "The Bible calls 'a word of knowledge'.  The first word I can remember receiving in this way, happened when I was driving one morning to pray for a couple whose marriage was on the rocks.
I prayed, 'Lord, what is the problem?'  Immediately the word anthropology popped into my mind.  This turned out to be the key. The one had judged it as good while the other as evil, and it was driving them apart."
Roy has many other great posts and articles in his website.  I would encourage you to explore this great treasure for your Christian growth!
Contact Roy Waldrom
Email alan@alanpippenger.com
In or near New Zealand – Roy Waldrom P/O Box 85 Taupo New Zealand 3351
Email royw@ihug.co.nz
For the UK – John Waller Bell House with Brodawel Church road Gwent NP18 1HX UK.
Email johnandizzi@onetel.com
For Australia – Daniel Fengler 8/26 Jonathan Ave Burwood East Victoria, 3151 Australia.
Email dfccc]at]bigpond.com
GOOD NEWS!  Roy is not on YouTube! His 4 video series in available now!  Here is his first one: Part 1: http://youtu.be/PqSRdCVUcq0
Ask for my favorite, an interview with Roy called 'Face to Face'.
Susanne Fengler. Blog Author
www.thebookaboutyou.mentorsnotebook.com


service