More Great music:  "10,000 Reasons (Bless the Lord) – Matt Redman (Worship with lyrics) Uploaded by GloryToFatherGod on Nov 25, 2011
Other To Albums by Matt Redman  (See all 17 albums)
Other's Comments: "It's another great release from Matt Redman. He was able to stay true to himself and be relevant to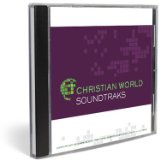 the current flow of contemporary worship. It's genuine and real, which cannot be said of some other "worship" albums that have come out. It's worth the purchase and I'm sure, when listening to it in your time of worship and praise, it will bless you."
Another's comments: "The song 10,000 reasons makes this album very worthwhile. There are several other good songs on this album, but that song definitely sticks out (hence the title of the album I'm sure). It's a great way to start your day listening to worship music, and this album fulfils that.
"On a side note, I am someone who owns predominantly "secular" albums, and the only Christian music I can really listen to and enjoy is worship music. Everything else produced in the realm of Christian music, besides worship music, comes off as cheesy.
"Christian songs on the radio often sound like they've ripped off secular artists by cheaply emulating their style and sound. It's refreshing to have solid worship albums like this one being produced. We need less Christian music that tries to sound like secular music, and more worship music to glorify a wonderful and gracious God. Keep the songs coming Mr. Redman."
You can find his music at most Music stores, or at Amazon.com  OR www.koorong.com.au at Koorong – Browse … 'catalogues'
We know you will enjoy this song and the whole album!
Susanne Fengler. Blog Author
www.thebookaboutyou.mentorsnotebook.com/blog