Apr 13
1service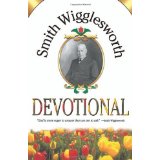 Whenever I find my friends reading a great book, I stop all conversation, grab a pen and paper and write about their book and what they think about the book.  Recently I visited friends in their new unit…..and guess what!  They were devouring a Great book.  Anyone remember Smith Wigglesworth?  Someone has gathered his stories and written them into a 365 day devotional book called Smith Wigglesworth Devotional
Each day has a verse, a story about the miracles he saw and then, a thought to challenge your thinking.  His ministry of prayer even saw his wife raised from the dead.  Her response was?  "I don't want to be back here; I want to be in heaven!  Don't pray for me again!"
One daily thought that meant alot to my friend was "God wants us to be blessed but first we have to be ready for the blessing".  This came from the reading on March 28th devotions.  Thanks my friends for sharing your book with me!
What others are saying about this book:
"Collected from the writings and teachings of Smith Wigglesworth, these daily devotions bring you right to the heart of God. The simple yet inspiring words of this well-known evangelist offer a dynamic message for each day of the year–a message of fullness of divine power. Discover through Wigglesworth's writings how you can experience victorious living, transmit God's love and miracles to others, live in the presence of God, and much more."
You have several choices with this book from Amazon:
1. Paperback –
$18.99  $12.91 Paperback.  (Eligible for FREE Super Saver Shipping.)  $5.95 used
2.  On Kindle –
$9.99Kindle Edition  'Auto-delivered wirelessly'
If you want to increase your faith, we highly recommend this book.  It's great for people wanting a daily devotional to add to their Bible study.  Remember to check with Amazon on their prices as the offer on this blog may not be available when you buy the book.
May this book add to your walk as a 'Jesus follower'!  Remember God is more eager to answer than we are to ask!
Susanne Fengler. Blog Author
www.thebookaboutyou.mentorsnotebook.com