Oct 13
25profile
When I went to find this book, I also found many excellent reviews as well.  Here is what some people have said about this book: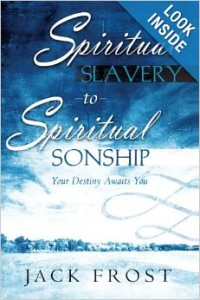 From Nathan Beauchamp – The late Jack Frost spent much of his life working as a licensed commercial fishing boat captain. While he was tough, skilled, and ventured to some of the roughest and most hostile environments on earth, he was not very good at receiving love from his Heavenly Father. He did not know how to be a son and was hemmed in by 'orphan thinking.'
Through some powerful interactions with the Holy Spirit and Father God, he learned to replace his old way of thinking with a new one and began to live life with the understating of his inheritance and sonship through Christ Jesus.
Other comments:
"An excellent read for virtually any Christian, this book will have an impact on how you view yourself, God, and your relationship to Him. It will challenge you to throw off old and broken ways of thinking and being and embrace the fullness of God's love and care for you. Highly recommended.
Here is a great book that goes along with our series: Spiritual Slavery to Spiritual Sonship by Jack Frost.  This is the final book written by Jack Frost before he passed away and some say, by far the best.  His main aim is to help us see our Heart and why we do the things we do.
It comes as a hard fact that for years, many Jesus Followers has bee trying desperately to serve and please the Lord – as our Master and Judge.  The whole aim of the gospel message is that we are to relate to a God of Love – but few really have that fact as the foundation for their faith and Christian walk.
As one church worker put it: "I've done everything up till now because God is my boss, and he owns me, and if He wants to burn me out, that's His decision! I'm a slave for Christ! Don't tell me, after all I've suffered, that I've done it for the wrong reasons…" He said this with tears of frustration pain rolling down his cheeks.   Slowly he allowed the spirit of Sonship begin to unravel the spirit of Slavery from around his heart.
Another reader shared his story:  He was frustrated and confused as to why he felt he could never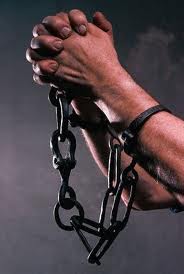 engender loyalty in people, or create spiritual sons. He talked the talk, but it never worked. He realized that you can speak like a Father, but act like an Orphan.  Once you become a Son (or Daughter), you will create and attract other Sons and Daughters. The desire in the Church to "Father" (or "shepherd", etc) is doomed to failure if led by Orphans.
We can strive like an Orphan, FOR an Orphan. Finding the freedom to see God as Father can allow us  to continue to serve in love, and escape from the cycle of pain and rejection.
Following "Experiencing the Father's Embrace", "Slavery to Sonship" is a wonderful "next step" in receiving revelation of Father God's love and constant care. I had not realized how much I viewed life through an "orphan heart" searching for a home. Jack really deals with what he calls displacing the orphan heart with Father's love. He shows the consequences of living a Christian life without the revelation and understanding of being a son/daughter who is loved, accepted, valuable, wanted. I found myself moaning as I could relate to mistakes Jack made when he himself had 'orphan thinking' and lived as such. His teaching helps you grow into the beauty of being adopted and an heir of Daddy God.
I trust you will greatly benefit from this book on your spiritual journey as a Jesus Follower who came to show us the Father, not the Judge or stern Task master!
Susanne Fengler, Blog Author
www.thebookaboutyou.mentorsnotebook.com