Something About the authors of this Blog:
Hello, we are Daniel and Susan Fengler
Here is a quick walk through our journey:
First of all, we want to welcome you to "The Book About YOU", a blog especially designed to make you aware of some great books you might find helpful for your journey in life!
We came to Australia in 1974 as Secondary teachers on a two year contract from the USA.  There was a teacher shortage so we came with some 2,000 other Brits, Canadians, Americans and others to help.  We liked Australia so much we ended up staying ….  for over 35 years.
We first lived in Brunswick, an inner city housing unit.  We then moved to Healesville, Victoria and ….build a house….but not just any house.  Daniel read 45 books on solar design before we started!  These have been very good years for us!  Even though we enjoyed teaching, we didn't just stay there.
In 1986, we changed careers into Personal Counselling.  Yes, we jumped from being teachers into a great big unknown future!  Then we helped organise and run a counselling Centre where we met some amazing people.  We worked in that part of the 'Harvest Field' for 14 1/2 years.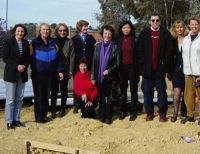 So, by 2008, we found ourselves in common purpose with an inspiring group of 20 to 25 dedicated people.  We had grown to 10 Counsellors, about 8 assorted trainees and then, a wonderful support staff.  We even had the privilege of planning and moving into a brand new building …. it was a great journey.
We didn't stop at this part of our journey either.  In 2008, we took another path, into Mentoring and Coaching.  We 'semi-retired' ….with Website and Blog design on the side.  It is from this solid base of experience, commitment and vision that we launched www.mentorsnotebook.com and www.jesus-treeoflife.info   We have a 'warehouse' of courses, worksheets and units we have developed.  It's this material we want to share with you.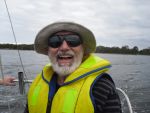 In case, we didn't have enough with all this, we have an 18ft. Ultimate sailboat.  Daniel is a keen sailor and enjoys the adventure with others on Port Philip Bay here in Victoria, Australia.

Lately we also have joined with a group of 4 wheel drive explores from our church.  What a buzz – seeing some of the beautiful country in Victoria, Australia.
So you can see that we have over 30+ years of personal and professional experience behind us.  That's one reason why we invite you to join us in on this blog.  Maybe you will find some valuable books and begin the greatest journey of your life!  We weren't born learning how to ride a bike or drive a car.  We all have to get out start somewhere!  In fact, we spend more time learning how to drive that car than to learn about our inner thought life and inner motivations.
Then for those of us who are 'Jesus followers', we need to add another layer of learning to love ourselves – before we can love others.   ….then before we can love God…. Huuummmm, that's a bit of a challenge.
What we Believe:
We believe in one Omnipresent God, the Father, the almighty, Creator of Heaven and Earth, of all that is, of galaxies and realms of angelic beings, of the seen and unseen worlds.
We believe in one Lord, Jesus Christ, the only Son of God, eternal,
Begotten of the Father, not created:
God from God, Light from Light,
True God from true God, of one being with the Father;
As the Word of God, through Him, all things were made and held in order.
For us and for our salvation God, the Creator took on flesh, was incarnate of the Holy Spirit and the Virgin Mary and became truly human. He walked the Earth for some 33 years, teaching, healing, showing the true nature of the Father.
Jesus of Nazareth is the Promised One from Genesis onwards, the Messiah, the Christ.
For our sake, He was beaten, sentenced and crucified under Pontius Pilate;
He suffered death, was buried and descended into hell.
On the third day, He rose again in accordance with the Scriptures.
He appeared to His followers, taught for 40 days commissioned them.
He ascended into heaven and is now seated at the right hand of the Father.
He lives to make intercession for His church and the world as our High Priest.
He will come again to judge the living and the dead and His kingdom will have no end.
We believe in the Holy Spirit, the Great Comforter, the Teacher, the Giver of life,
Who was sent by the Son and proceeds from the Father,
Who with the Father and the Son, is manifest to convict the world of sin, of righteousness and of judgement to come;
Who spoke through the prophets,
Inspired and preserved the written Word we have today.
We believe in one universal and apostolic Church,
Decedents of Adam and Eve, fallen by nature and in need of salvation.
We acknowledge one baptism for the forgiveness of sins,
Undergoing a process of sanctification and regeneration.
The church is born of the Spirit, being transformed into the Bride of Christ.
Who will reign and rule with Christ throughout eternity.
We look forward to the resurrection of the dead and eternal life in the world to come.
Amen.
We are here to help because we have helped many, many others to find answers that do change lives.  So come and join us!
You'll also find us on these websites:
                     www.fidelity.mentorsnotebook.com        www.grief.mentorsnotebook.com    www.innerchild.mentorsnotebook.com   www.osteo.mentorsnotebook.com    www.nurture.mentorsnotebook.com     www.anxiety.mentorsnotebook.com   www.stress.mentorsnotebook.com        www.self-talk.mentorsnotebook.com  www.suicide.mentorsnotebook.com     
However. don't buy your copy of these great ebooks here.  Go over to our NEW BLOG:     www.thebookaboutyou.mentorsnotebook.com
<><>o0o<><>
Other blogs by Susanne:  www.hearinggod.mentorsnotebook.com/blog  www.christianfoundations.jesus-treeoflife.info       www.conflictsolutions.mentorsnotebook.com    www.totalwholeness.mentorsnotebook.com/blog

…and now I have added this NEW BLOG:
www.thebookaboutyou.mentorsnotebook.com

Contact Information:  We live in Melbourne, Victoria in Australia since 1974.  Want to know anything about 'Aussieland' let me know.  You can reach me on      sf727[at]bigpond.com  or susanne[at]mentorsnotebook.com
If you wish to contact me, please remember I do not have staff to help answer emails.  I will reply to your question/comments but will try to get back to you a.s.a.p.
 <><>o0o<><>
Sometimes it is the small things that bring meaning into our life.  Don't let those moments be wasted.  Your Creator marks your life with these special moments so that we can just take that little step toward Him.  Maybe this is your moment?
Catch the breeze and let Him bring you into a whole new feel of understanding and wisdom.  Peace is also being offered.  Not the kind of peace that comes with sleeping in on Sunday morning or from an empty house.  Real, deep peace comes from only One source —— > God.    Just remember, there is only One Creator and He so wants to have a relationship with YOU!
May you greatly benefit from your time with us!
Susanne Fengler. Blog Author
www.thebookaboutyou.mentorsnotebook.com/blog
PS.  You'll also find an 'About Us & Contact Us' Page on all of our blogs that is similar to this page!  Do come and make some comments!

language