Aug 13
19
Recently, Mariane Hekman sent me a book review!  Here are her comments: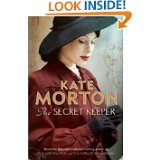 "It really was/is a great read. I could not put it down. The novel is set in war time London, when London was being bombed. The novel is written as a daughter of the main character.  She was visiting her mother at her death bed and trying to unravel the past.  It's a very interesting twist at the end.  Book is called "The Secret Keeper" by Kate Morton."  (Kindle Edition cover)
Thanks Mariane for this interesting Novel!
Another comment by a reader at Amazon.com:  "The Secret Keeper is the fourth novel from popular Australian author Kate Morton, whose previous books such as the The House At Riverton and The Forgotten Garden, have enjoyed international success.
"In the Secret Keeper, Morton grabs the reader's attention with the first chapter as sixteen year old Laurel witnesses a tragic altercation between her mother and a stranger. Nearly fifty years later Laurel's latent curiosity prompts her to investigate Dorothy's past, inspired by an inscription in a copy of a Peter Pan, a photo of Dolly linking arms with a friend, Vivian, and the vague whispers of her dying mother, slowly piecing together an extraordinary story.
"As the narrative shifts between Laurel's search into her mother's past in present-day England to London during the Blitz, the reader is witness to Dorothy's life. A headstrong and vivacious teenager, Dolly flees her staid family to make a life for herself in London, certain she is destined to become something special.
"She imagines having a life of luxury, social standing and wealth, like that enjoyed by Vivian Jenkins, which seems possible when she becomes the companion of the rich, eccentric and elderly, Lady Gwendolyn but when Dolly's dreams sour, she is devastated. Despite the adoration of her boyfriend, Jimmy, Dolly concocts a plan to claim what she believes is her destiny, triggering a cascade of events that lead to tragedy.
"In a vividly drawn setting, Morton creates a cast of intriguing, believable characters who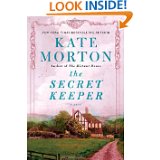 are motivated by wistful dreams and dark secrets. As their relationships unraveled and the plot grew more intricate I was drawn into the twists and turns of the story, that leads to a stunning conclusion that will take most readers by surprise.
"Finely crafted, The Secret Keeper is both an engrossing mystery and a sweeping historical saga. A compelling tale of love, loss and betrayal this is a wonderful read from a gifted storyteller."  Comment written by Shelleyrae
You can find this book at Amazon.com, either hard cover, paperback of Kindle.
We would recommend using 'The Book Depository"
Susanne Fengler. Blog Author
www.thebookaboutyou.mentorsnotebook.com

P.S. Remember to send me comments about the great books, music or videos you are enjoying!