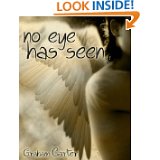 Sometimes you run across a book that just opens the door to another level of spiritual growth.  It's like a God-kiss when you see the touch of our Creator in the gift.  It was like that for me to find this book!
Not only has it given me a new perspective on what Heaven will be like but also of the earthly struggle the enemy of our soul adds to keep us from finding Truth.  It is a spiritual world here and we sometimes forget that reality in our busy world.
The story takes the tragedy of a young mum's death and shows you the adventures she has in heaven.  Yes, it is one of those books that talks about being in heaven but this is from a different perspective.  Just the things she feels, sees and experiences is enough to get the book as it will literally give you a new reason to live your life with Jesus Christ while you are here on earth.
However, the alternative chapters in this book, 'Eye has not Seen', demonstrates the power of the enemy and the work behind the scenes to watch the struggle of her murderer.  Even 'Sam' is the object of God's love!
I won't spoil the ending for you other than to say there is a sequel.  I haven't read it yet but from what I hear, it's great too!
Other's comments:
"This tremendously captivating fictional book No Eye Has Seen will take you to the portals of heaven to imagine and behold the eternal beauties that await us while also exposing the demonic realm realities that attack believers. It was a demonically inspired happening that found Sam Knight leading Sarah Glen to her death.
"Sarah's end on earth will take the reader to heaven where author Graham Carter masterfully allows us to get a very close up feeling of not only the beauty of heaven including our selected mansion, but the incredible feel of true harmony among humans and animals. Though "No Eye has Seen" your biblical recollection will add meaning as you witness the Bema Seat, meet Enoch, travel through the garden of Eden, meet your loved ones and one day receive your eternal crown.
"Woven back and forth will be heaven and earth's occurrences with the latter dealing with spiritual warfare that continues to climax. The redeeming love and hand of God will solidify the fact that no one is too far in sin that God cannot reach and love."
Thanks Valerie Caraotta for your report!
"This book gripped my imagination and did not let go! The book begins with the mysterious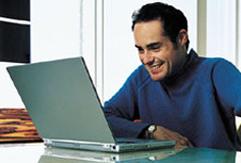 death of a Christian woman named Sarah. What appears to be an act of road rage becomes so much more. What follows is a fast paced novel where the tension increases with every page that is turned. Warning, this is a hard book to put down.
"What follows is a story about what Heaven is like for Sarah, what demon possession is like for Sam, her murderer. It's a story of spiritual warfare- the armies of light versus the armies of darkness – and how things that happen in the Spiritual realm affect those here on earth.
"This story describes Heaven as seen through the eyes of Sarah. We get to explore Heaven with Sarah. Graham Carter does an amazing job of describing his vision of Heaven. The characters are well written and believable."
You can find Graham Carter's book and lots of other comments on Amazon.com's Kindle for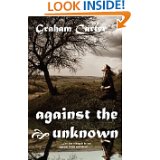 $2.99.  Remember if you don't have the Kindle device, you can get a 'apps' for your computer, ipad or iphone!  You will also find his sequel 'Against the Unknown', Kindle price of $7.19.  I have heard you can only buy it through Kindle so join the line!
Or buy this book through my Affiliate code:
a Slave No eye has seen 9780980345803
OR www.koorong.com.au at Koorong – Browse … 'catalogues'
I really do highly recommend this book!
Susanne Fengler. Blog Author
www.thebookaboutyou.mentorsnotebook.com

Want to read it yourself? Get from Amazon:

tour