Oct 13copyright
1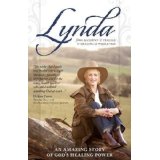 Recently another inspiring book was shared by a friend.
"She was led to Health Care in Christ, a group of Christian health care professionals across Australia.  At a ministry session witnessed by 150 doctors and nurses, Jesus systematically healed every part of Lynda's body, mind and spirit. During which Lynda relived all the physical and emotional experiences of the accident,
"In Lynda's words, 'I had a tangible sense that all the broken pieces inside of me had been put back together, like when a jigsaw is completed.'
"Peter Horribin, Founder and International Director of Ellel Ministries International, said 'When God healed Lynda, my faith and trust in Him rose to a new level of understanding. We had all watched a miracle take place.'
Lynda also went onto marry and despite some tragic loss, have a family.  This is an amazing Story!"
I am blessed to be able you share this book with you, Diana Russell
"(The book) had the impact on my life that I cannot fully explain (as those things are not tangible, but very real)  As I read, I had immense flashbacks from my own life, crying to God for my own deeper yet healing. It stirred something very deep inside of me, which is difficult to put in words. I was so grateful to Him for His love and concern for me (knowing that He himself led me to finding the book), and that He is waiting to help me. The book carries with it the breath of healing."
"I know the author of this book personally – and I know about the devastating fall that she experienced when bushwalking at night and the crippling damage to her body, resulting in a disability pension from the Australian Government.
"I also knew of her miraculous healing, before 150 doctors and other health workers. That is because I live in Bathurst, where Lynda Scott lives.
"But when I received her book on Kindle and read it, I could not lay it down. It is divided into 3 parts really – the accident and its results, the miraculous heading, and then facing miscarriages and a death by SIDS before God gave her the family she has today."  Highly recommended, Bruce Cole
Thanks Diana and Bruce for your comments on the book 'Lynda'.  This story has the capacity to change your life. It is so inspiring to see how a person can face such difficulties and loss and yet continue to trust in God. If you love real stories filled with overcoming faith, you will love this book. It is a truly amazing story!
You can buy this book HERE on the Book Depositary!  Free world wide delivery too! Or check out www.koorong.com.au at Koorong – Browse … 'catalogues'
Or You can find it on Amazon.com:   New – $22.98            Used  – $7.11   It's called 'Lynda' by Lynda Scott.
Susanne Fengler. Blog Author
www.thebookaboutyou.mentorsnotebook.com

PS Have you been reading an inspiring book lately.  Send me a comment, an email or a short summary of your Bork to add to this Blog!