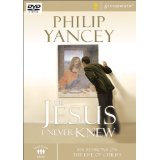 Recently I came across another great book! Here is a YouTube portion a book review of 'The Jesus I never knew', Chapter 1, in Audio form:
" 'The Jesus I Never Knew' audio book gives a moving and refreshing portrait of the central figure of history, Jesus Christ. With a willingness to tackle difficult questions, Philip Yancy looks at the radical words of this itinerant Jewish carpenter and asks whether we are taking him seriously enough in our own day and age.

"From the manger in Bethlehem to the cross in Jerusalem, Yancey presents a complex character who generates questions as well as answers; a disturbing and exhilarating Jesus who wants to radically transform your life and stretch your faith. The Jesus I Never Knew uncovers a Jesus who is brilliant, creative, challenging, fearless, compassionate, unpredictable, and ultimately satisfying.
 "This honest book will help you discover a different Jesus from the flannel graph Sunday school figure, the sweetly smiling Victorian Saviour, and all the cultural clichés that have tamed Jesus and kept him in comfortable religious boxes.
"According to Yancey, 'No one who meets Jesus ever stays the same. In the end I found the process of writing this book to be a great act of faith-strengthening. Jesus has rocked my own preconceptions and has made me ask hard questions about why those of us who bear his name don't do a better job of following him.' "
Here is another YouTube  on the book 'God is Love' by the same author, Phillip Yancy.  This is the  real message of our Christian Foundations.
I  trust you will enjoy this book as much as I have.  The book is available through Amazon.com
 Or check out www.koorong.com.au at Koorong – Browse … 'catalogues'
Susanne Fengler, Blog Author
www.thebookaboutyou.mentorsnotebook.com